Let's set the scene: you've just wrapped up a certification or training program, you feel exhausted but your excitement to start building a professional practice outweighs the tiredness. After all, you have just invested time, money, and energy into a practice that you're passionate about, whether that's yoga, dance, fitness, or coaching. This practice changed your life and you are eager to share it with others.
As a new yoga teacher, you probably already know that you will need to offer an online course but there's just one problem: you don't have any clients or students yet. So, what's a person to do? Post flyers at that cafe down the street? But, are they even open during the pandemic? Maybe it's time to create an Instagram profile. Or, you think you've heard something about Facebook Ads being the best way to be seen–but doesn't that require an understanding of those elusive algorithms?
While it may be tempting to try all of the above and hope something will attract business, we recommend taking a step back and focus on building a plan first. Developing a plan is an opportunity to reflect on a few questions that can help you paint a clearer picture of the issues you want to address and how you'll do it. In this article, we'll explore three basic steps to take when you are beginning the process of fleshing out your first online topic in order to start building your student base. 
Step 1: Identifying your topic and audience
This step is your initial research phase. As you'll see in the chart below, you'll want to begin by pinning down the issue you want to address. Be super clear as you think through this problem. Avoid being vague and overly general. Details will give you a clear direction. For example, in the chart, we say that "New parents are less physically active in the first 5 years of their child's life which can lead to issues with their health and wellbeing."
Once you've detailed the problem, consider the "why" — that is why are you passionate about this particular issue and why does it matter at all. In our example, we say that "It's important for parents to feel healthy and have a positive self-image." In a way, this can become a guiding star or statement you can return to if you ever need a reminder as to why you took the leap into becoming a yoga teacher. 
Now that you have defined the "what" and "why" let's think through the "how." How can your expertise and passion come together to create a solution to the problem you have identified? Using the example of wanting to help new parents carve out time for their own health and wellbeing, you may say that this looks like "A 20-minute gentle yoga flow class that does not require special equipment." Take note that the "how" is detailed and takes into account what you know about new parents: they don't have much free time and do not want to deal with a program that requires any additional equipment or complications. In short, it needs to meet them where they are. This is a better alternative to something vague like "A short class taught online." From this specific idea, you can expand into the larger topic for your offering such as "An online series of 20-minute yoga flow sequences for new parents that requires no special skills or equipment." 
You've answered what, why, and how so now it's time to think about the people in your life that can support you while you support them. Continuing with the new parent example, jot down a list of 10 people that you feel comfortable contacting about your idea and gauging their interest. Think of this as your "pilot group" who will be central to providing feedback and valuable insight as you continue this process.
Feel free to save or print out this handy chart for making notes and as a reference as you go through this step: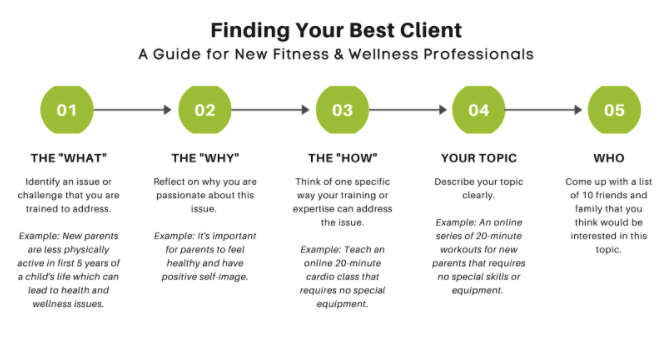 Step 2: Gauge interest
Now that you have sketched out your idea and have a list of potential clients, it's time to gauge interest. You can approach this through a phone call, text message, or email. It really depends on your relationship with the people on your list, how you typically communicate with them, and your personal style. Below is a sample script you can use as a template. Be sure to tailor it according to the communication method you're using and more importantly, that it sounds like you. (This is good practice in bringing your authentic self to your profession!)
Hi FRIEND,
I'm reaching out because I'm thinking about creating a new online course for teaching
parents with a young child how to stay physically active at home in just 20 minutes a day
with no special equipment.
I thought of you because I know you have a 2-year-old daughter and you mentioned how
challenging it has been to get to the gym.
Could this be something you might be interested in? If not, do you know of anyone else who might be interested that you could connect me with?
Thank you,
YOUR NAME
Step 3: Dig deeper or start again
Once you've completed outreach to your potential client list, you'll have an indication of whether your topic will have broader appeal. As a rule of thumb, let's say less than half of those you contacted told you they were interested. While it's not an exact science, this is a pretty good indication that you should head back to the chart above and workshop your idea. Don't get discouraged if you have to go back to the drawing board! Instead, use what you heard and learned from your conversations to refine and strengthen your offering.
If you found that your potential topic was well-received, awesome! Now it's time to dig deeper and make sure that the online offering you design is actually addressing the issue you identified in step 1. The best way to find out is to follow-up with the individuals who indicated they were interested. Using our example of pursuing an online course for new parents, we would ask:
What challenges or difficulties do you face in staying physically active as a new parent?
What online resources (if any) do you use to learn about physical activity? E.g. websites, podcasts, social media, magazines, etc.
How did you first learn about these online resources?
These three questions will provide helpful clues when it comes to developing and marketing your offering. The first question will ensure that you are designing a program that will actually address the issue your potential clients are facing. The second question will give you a good idea of where they are going to find support and the third question will help you figure out the best mode of advertising once your first cohort of friends and family members have gone through your course.
By the end of this planning process, you'll have a detailed plan and way forward in finding and building your ideal client base! We understand this process might not be your favorite part of building your professional practice but trust us, the hard work you put in now will pay off in the future. Each of these building blocks will be key to growing a sustainable and effective business. 
We also know that this process can take time which is exactly why we started OfferingTree! Our goal is to develop a simplified system for handling your online content, registration, payments, and client list so you can spend less time on tech and focus on what you're truly passionate about. Join us for a live demo – and see how our system can help bring your business plan to life.