Own a studio with teachers & staff?
Book a live demo with an expert to see if OfferingTree is a fit
Free Gift With Your Trial
Get Our Free OfferingTree QuickStart Course & Guide With Ashley Hagen
Get started quickly, even if you have zero tech ability by working along side Yoga Teacher Ashley Hagen as she explains the OfferingTree dashboard, helps set up a quick website, shares how to set up new events, and offers a ton of tips along the way.
Get started in under an hour!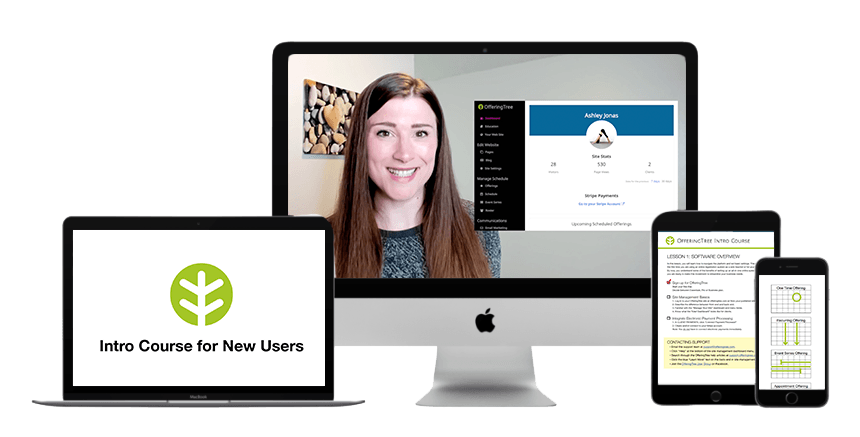 Frequently asked questions
Don't see your question below?
What is OfferingTree?
OfferingTree is a "business in a box" solution that lets you schedule online or in-person events and 1-on-1 appointments, take payments / subscriptions / memberships, sell or rent on-demand videos and digital courses and manage all of your client communications (e.g., newsletter, automated messages, text and email reminders). Unlike others, OfferingTree is truly an all-in-one solution because you can even host and build your website with us. Of course, you can also embed OfferingTree into your existing website if you prefer.
Can I use OfferingTree with my existing website?
Absolutely! Our most popular features can be embedded directly into your existing website with a simple line of code. If you want to use OfferingTree for scheduling, registration, payments, membership and package management, or running your digital store we can help. The embed code we give you works with all popular website providers. If you have specific questions, please reach out to
[email protected]
Can I sell or rent videos / recordings / courses?
Yes. You can sell or rent a single video, entire video libraries and even on-demand courses. Organize them in categories, add tags and even put them into memberships, subscriptions and packages. OfferingTree hosts your videos and there is no storage limit.
Do you provide a website?
Yes! OfferingTree includes website hosting, design templates and a powerful website building tool so you can create a beautiful website that looks great on any computer, tablet or smartphone. Many of our competitors only provide you with limited landing page options, which is not the same as providing a true website builder.
What fees do you charge?
OfferingTree charges a monthly subscription fee (see our pricing above) and our lowest cost plan includes a small transaction fee that we let you absorb or pass along to your clients (see our pricing above) -- other companies don't always give you this choice and add on extra transaction fees! If you buy or transfer a custom domain, then we charge you a one-time fee of $15, which is what it costs us to buy or transfer the domain for you.
Do you integrate with Zoom?
Yes! We have a direct integration with Zoom so that when you create an event in OfferingTree it automatically shows up in your "Meetings" tab in Zoom with the correct date, time and other settings that you chose. No more copying and pasting Zoom links! Each event gets its own unique Zoom link and you can even set the date, time, personal message and any optional attachments you want to send to clients with the event zoom link.
Can I use something other than Zoom?
Yes! You can use whatever video conference service you want (e.g., WebEx, Microsoft Teams, Google Meets, Jitsi).
Can you do donation-based and sliding scale pricing?
Yes, we support donation-based and sliding scale pricing. You can even set donation minimums and allow clients to choose their own price within a range.
Why use OfferingTree? How are you different?
Unlike other companies, OfferingTree is specifically designed for health and wellness professionals who don't want the hassles of learning technology or managing tons of logistics. You can be up and running in 30 minutes or less. OfferingTree is a "business in a box" solution so you don't need to manage plugins or mess with code. We're also a benefit corporation that actively supports wellness access and education
Do you offer support?
We provide a variety of support from real human beings. We provide email support and an active user community where you can ask questions. By request, we can arrange video or phone calls. We also provide education and training with free monthly webinars. OfferingTree includes tutorial videos for all of our features and an online Q&A forum. To get the fastest support, simply click the "Help" button
Do you allow waivers?
Yes! We support custom waivers so you can ensure that all of your clients agree to your policies and terms when registering for your events or accessing your digital content.
Will I get my own domain name? What if I have an existing domain?
Yes! When creating your account, you'll be asked to choose an option for your website address. Pick the "Use a domain you've already purchased" option and we'll get in touch with you on how we can use that domain for your OfferingTree site.
If you already have a site you like and you just want to use OfferingTree functionality on your existing site we can do that too! Most of our popular features can be embedded right in your existing site!
Don't already own your own domain. No problem! You can purchase one during the signup process.
What happens if I cancel my subscription?
If you cancel a monthly paid plan, we'll stop all future billing. You can use all of the monthly plan's features until the end of that month. Please note that we do not issue refunds for any of our monthly paid plans.
If you cancel an annual paid plan, we'll stop all future billing. You can use all of the annual plan's features until the end of your current annual bill cycle. If you cancel an annual plan within the first 14 calendar days of your credit card being charged the annual fee, then you can request a refund from us with no questions asked.
If you purchased or transferred a domain to us, we're happy to transfer the domain back to you so you can use it however you wish.
If you have any additional questions / concerns or just wish to connect with us, please email us at [email protected]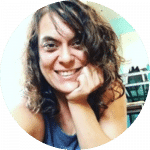 "I hated even thinking about my website before. And now, everything I need is in one place and I'm able to go in and change it on a dime."
– Nichole W.
Online Yoga Studio and more Exceptional. An amazing team of people that responsive, understanding, and talented. ☺My favorite thing is that it keeps getting better. Customer support is amazing, and when I've given feedback or requested changes, they've been made! So many features have been added - memberships, packages, the store, and more. ☹One thing I am waiting for is an intake form for clients when they sign up. You can integrate google forms now, but I'm looking forward to when it will be a part of the system.
Avi G.
September 1, 2021.
Best All-Inclusive System for New Wellness Entrepreneurs! I love Offeringtree and recommend it to all my friends in the business because i've had a great experience with them so far. From the very first day I found out about them and signed up for a demo call, one of the founder's spent 2 hours on the phone with me and I could truly tell that he cared. Since then, the customer support and development of the system while it continues to stay so affordable has blown me away and proves to me that those first impressions were true. ☺This software is all-inclusive and fully-integrated and has everything you need, easily set up and ready to go. As someone who is just starting out my yoga teaching business, this is the best software if you have very limited time and money to spend on your tech backend. And for how affordable it is, it is surprisingly robust, with so many features! The best part is the customer service reps have gone above and beyond for me and they truly listen to what's needed and are constantly updating and adding features to the system! For the price, it is so worth it, and is relatively simple to get started, which is crucial when starting a business! ☹The software definitely doesn't have all the bells and whistles and customization others might have, but that's to be expected at the price point, and they can provide plenty of workarounds if needed. Sometimes its clunky and has issues, but nothing that has been a dealbreaker yet! And it balances out as i'm constantly impressed by the new features they come out with and updates they make.
Elana N.
August 28, 2021.
Great offering, needs tiny tweaks. I am truly enjoying this new website, it has not been a hard transition at all. Customer service is amazing, which really helps when things go unwell. I also love all the booking features & the store feature. ☺I love that I can easily create a video library that I can share with my clients. I love the option to share PDFs, eBooks and similar items in my store, too! It's also to integrate other features, like my relaxations from Spotify! ☹The font designing element is not bad, but it's annoying that one something is edited, it naturally becomes centered. It would be great if the editor could decide if they want the text centred or not. Also, if pictures could act as buttons for links, that would be amazing, too. Also, if tiered pricing options could still have discount codes applied to them, that would be the best.
Eszter B.
August 26, 2021.
High Value and reasonable priced Offering Tree has been and will continue to be an important part of starting and growing my business. The digital presence I am able to have with my OT site is above and beyond what I initially imagined and my business I am able to keep growing as OT adds more features. ☺I love the ease of use and the fantastic customer service! I appreciate continuing education opportunities and quick responses to help tickets. I was able to set up a professional looking and functional website within minutes and later, after my business was a bit more established, I was able to work with a graphic and branding specialist to give my site a truly customized look. Plus the OT team takes customer feedback seriously and are always adding new features. ☹I would like to be able to personalize emails from the system more and to be able to list classes and direct customers to other links via the "registration" button. Many of the features I had been wanting have been added like a store, memberships, and being able to drip content and share store items for free or without publishing them on the site.
Nichole M.
August 25, 2021.
Offering Tree is simple to use and has simplified my life! My overall experience has been so great. My site looks great, it's easy to navigate and it's easy for me to update. It has saved me so much time and money: now I only have to have one location for everything! ☺I loved how easy it was to create my website, set up and schedule my classes and the fact that it houses my videos for people to rent. The tutorials are great! the really take you through everything step by step. I am definitely not a "techy" person and the ease with which I can navigate the back end of my site is astonishing! And I will say also say that when I have run into challenging or confusing moments their customer service has been exceptional. They are quick to respond and super helpful! ☹The only thing that I hope will be incorporated is that after someone purchases a video I'd love for an automated email to be sent to them to thank them and connect them to a survey. So far only automated emails can be sent to sign up for my newsletter.
Independent Yoga Teachers need this website. I have a way of reaching students, a site I like and can accept payments all in one place. It is fantastic for a part time teacher. ☺OfferingTree has everything for one affordable price. Students can schedule, pay and even join your studio through your OfferingTree site. ☹Schedules can be challenging to set up and modify, but once you get the hang of it, it is manageable. Customer support is very helpful!
Carrie G.
August 25, 2021.
Just What I was Looking For I finally got my site up beyond quickly the same day I signed up. I had been working through another venue and struggled for months. ☺It is simple and easy to use. Has all the integrations I need and I can easily implement all levels for my customer. ☹It only has basic brand modifications however it still looks fantastic
New User Feedback It's pretty solid and getting better. I have high hopes for the future. ☺I love how easily I can keep in touch with students through the various options: roster, newsletter, and blog. I also like that I'm moving toward minimizing my admin/computer time. There are still features that OT doesn't have that I strongly need but I decided that I liked the product, people, and service enough that I was going to plunge in and hope for the best. ☹It doesn't (yet) have what I need. Big things for me are alternative payment options that link to revenue. In addition, there isn't currently a good way to manage drop in students to a series class. Also, not a fan of losing money with Stripe. I work hard on my programs and would like to reap the benefits of all my hard work.
Offering Tree is a great value Even with the current limitations, switching to Offering Tree has been a positive experience. Customer service has been excellent, and they welcome suggestions for enhancing their product features. ☺I chose to move to this product for 2 reasons: it integrates with Zoom for my online classes and it offers website design/hosting as part of their package. I'm saving time, effort, and money by having all all my studio management needs in one place. I haven't used the store module yet, but the feature is available when I'm ready. My old software didn't offer video hosting, which I'm using to streamline my online offerings. Customer support has been prompt and thorough. ☹I'm looking forward to more reporting options so I can access information about students, attendance, etc. Payment processing through Stripe works fine, but the software was designed for students to pay online with a credit card. Many of my clients pay in person with cash or check, and I have to work around the lack of this type payment. I can use my credit card reader for Stripe processing, but it doesn't connect directly to Offering Tree so again I have to work around this situation.
Offering The support team at Offering Tree is wonderful to work with and responds to issues in a timely manner. I am so pleased that I found this software. It makes the business end of my yoga studio less stressful. ☺I love how easy it is to update and make changes to my website as needed as well as having one place for my scheduling of classes, registration from clients and payments! The website it very user friendly for myself as as well as my clients. ☹Offering Tree is adding more features on a regular basis. There is nothing I like least about the software.