Our inboxes are flooded with emails from countless brands vying for our attention daily.
 The daily cycle of scanning your inbox for important messages and deleting the rest before opening can make email marketing campaigns for your yoga offerings seem fruitless – this isn't the case.
In fact, according to a HubSpot survey, 95% of marketers said email marketing campaigns helped them achieve business goals like lead generation or brand awareness.
This article will unpack the four most impactful types of email marketing campaigns for wellness professionals like yourself, tips to grow your email list, and what to look for in an email management platform.
Table of Contents:
What is an Email Marketing Campaign?
At a high level, email marketing campaigns refer to a single email or sequence of distinct messages strategically created and sent out over time as a marketing tactic for your yoga business.
These campaigns can take various forms, tailored to specific goals and target audiences:
Perhaps you're considering a monthly newsletter sharing yoga tips or meditation techniques to deepen the bond with your dedicated students.
Or, you might design intention-driven campaigns that send emails when students express interest in special workshops or retreats.
Whatever you're hoping to achieve, the importance of email subject lines can't be overstated.
No matter how beautiful the email content is, if the subject line isn't enticing, your hard work will go to waste.
We all delete plenty of emails without reading them first but consider the emails you do read. Why do you bother?
Do you like the brand?
Does the subject line intrigue you?
Is there an offer you can't refuse?
Keep these questions top of mind as you create your own email subject lines.
Learn how to create irresistible email incentives in our free webinar with yoga instructor Ashley Hagen.
4 Types of Email Marketing Campaigns to Grow Your Business (with Examples)
When executed mindfully, email marketing can elevate your yoga business.
Successful email campaigns demand a holistic approach, recognizing that your community is diverse – a single approach won't resonate with everyone. Calls-to-action, messages, subject lines, and more should be crafted with specific student groups in mind.
Whether you're new to email marketing or a seasoned veteran, figuring out where to start can be challenging. Let's explore the most impactful campaign types to grow your business.
Newsletter 
Newsletters are an impactful way for yoga teachers and studios to nurture their bond with students, sharing tips and yoga philosophy to help deepen their yoga practice, even off the mat.
By regularly reaching out to your subscribers, you not only make your teachings and studio more memorable but also foster a deeper connection with your yoga community.
However, this connection is only as strong as the effort you put in. Instead of just promoting class packages or workshops, strive to offer true value. Update them on new yoga styles, upcoming retreats, and enhancements in your teaching methods. Enlighten them, inspire them, and, most importantly, truly connect with their yoga journey.
Why consider a newsletter?
Inform and engage your audience
Drive traffic to your website
Can increase sales
Build and strengthen your community
Provide a channel for feedback
Example: 
💡 Tips for Newsletter Campaign Success
Make sure your email is mobile-friendly
Provide readers with something exclusive, like early access or discounts
Craft a clear CTA for readers to take a more meaningful action
Promotional 
A promotional email for yoga teachers is like a personal invitation, highlighting a particular class, workshop, or retreat. It's a uniquely effective way to reach your students directly.
Being in a student's inbox gives you a clear advantage, especially when compared to a search ad that might go unnoticed on Google.
To truly flourish, it's not just about sending emails—it's about sending a message that resonates. Segmenting students based on yoga interests and commitment levels ensures personalized communication, which can significantly enhance class sign-ups and participation.
Why consider a promotional email campaign?
Keep existing members engaged and connected
Email marketing typically offers a higher ROI than other traditional advertising efforts
Emails can be tailored to each segment of your audience, resulting in higher conversion rates
Easily gauge effectiveness with open rates, click-through rates, and conversions
Example: 
💡 Tips for Promotional Campaign Success
Segment your email list based on demographics, purchase history, etc. 
Use content creation tools to stand out and grab attention
Offer a promotion or a freebie
Welcome 
Welcome email campaigns are a friendly digital handshake. As soon as a new member joins your community or studio, they get a warm introduction that sets a positive tone for the future.
Keep in mind that this isn't just a greeting. Offer new members a glimpse into your brand and community. Make them feel valued and informed with helpful insights or exclusive offers.
Elements for yoga teachers and studios to include:
Your story
Class schedule
Instructor profiles
Testimonials
Options to schedule and book classes
Mention upcoming events
Why consider a welcome email campaign?
Make a positive first impression and establish trust with new members
Higher open and click-through rates than promotional emails
Helps understand subscriber preferences early on
Example: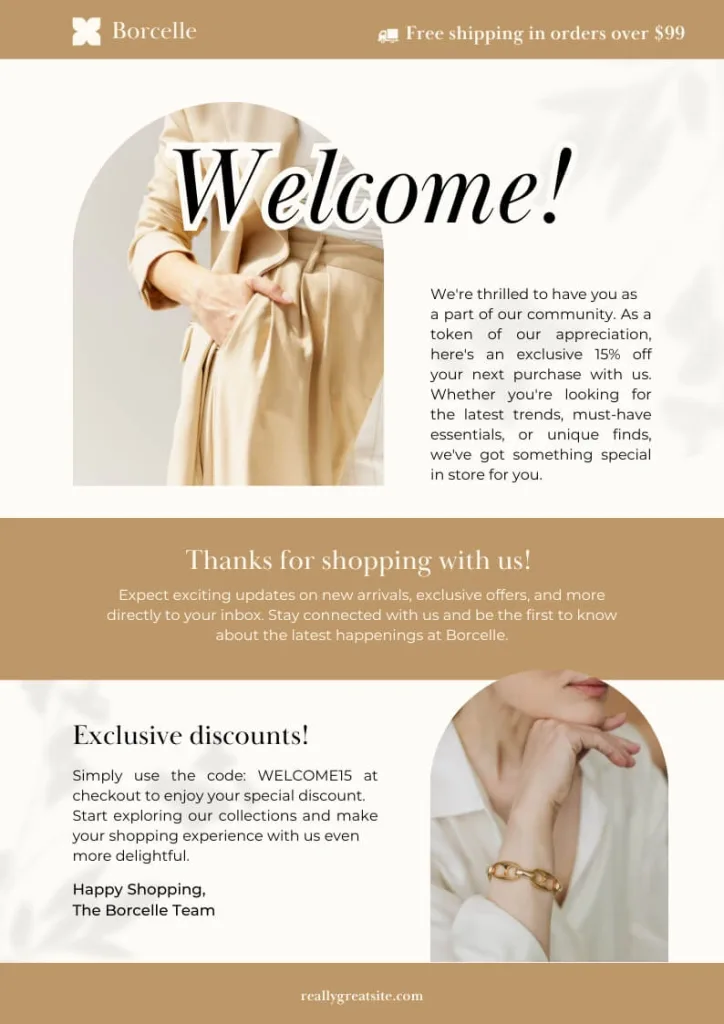 💡 Tips for Welcome Campaign Success
Deliver promptly after a user subscribes to capitalize on interest
Personalize the email and address the subscriber by name
Drive immediate sales and loyalty with new member deals
Nurture
Also called a lead nurturing campaign, this email marketing strategy is typically an automated series of emails sent to existing or potential members over time.
The primary purpose is to deepen your students' connection to yoga, inform them about classes, workshops, or retreats, and cultivate a sense of community.
Why consider a nurture campaign?
Deepen the connection with your students
Convert potential students into regular attendees
Guide your students through the decision-making process to find the class, workshop, series, etc that is right for them
Once you set the automation up, it takes care of itself so you can focus on teaching
Example: 
💡 Tips for Nurture Campaign Success
Segment your audience by attendance, experience, and interests
Share valuable content like post breakdowns or a peek into how you create a class
Have a clear call to action so your students have a clear understanding of what to do next
Learn how to grow an email list of eager students in our free webinar with yoga instructor Meg Sangimino.
What to Look for in an Email Campaign Management Platform
As a yoga teacher, you'll want an email campaign management platform that caters to your specific needs and helps you effectively connect with your students and potential clients.
Here are some features and considerations to look for:
All-in-one: As a teacher, you don't want to spend all your time and money using various platforms and trying to integrate them into your website.
Ease-of-use: A platform that is easy for you to use on the back end and easy for your students to navigate on the front end is essential.
Templates: Design work isn't easy. Templates can really speed up the process.
Affordability: Yoga professionals tend to focus more on their community and practice raking in the dough. Having affordable tools to support your business is essential.
Manage All Your Fitness Business Needs with OfferingTree
Whether you're a seasoned yogi or just beginning your teaching journey, remember that the heart of any successful email marketing campaign is understanding and addressing the needs of your community.
Craft those emails with the same care you bring to your mat, keep an eye on your outreach's resonance, and watch as your digital efforts enhance your real-world connections.
If you're looking for an easy-to-use, all-in-one business management solution designed for wellness professionals by wellness professionals, try OfferingTree, free for 14 days.
Here's to aligning your inbox with your inner purpose!