TRUE or FALSE: I can easily take time off from my business AND feel relaxed and ready to return to work after my time away.
How did you answer the above question, my fellow wellness entrepreneur? If you answered false, you certainly aren't alone, but there's no need to feel any shame! Read on to hear how you can go from false to TRUE for your next vacation or stay-cation! Let's start with a bit of psychology to practice what we preach and bring awareness to what is happening within our brain and nervous system.
Fight or Flight (or Sometimes Freeze)
Have you heard of fight or flight (or freeze) mode yet? Fight or flight is a term for when your nervous system is in high-gear (AKA survival mode) and is an automatic response most often triggered due to an external stimulus. This built-in response system is TOTALLY amazing when you encounter an immediate danger (like a snake chilling on the path of your hike or your child falling off his bike in the middle of the street) to help you protect yourself or a loved one. However, our world has so much stimuli floating around that our nervous systems are constantly in overdrive (i.e. fight or flight). A few examples of these stimuli that raise your heart rate while you are on vacation include a cell phone ping, an email notification, a student asking for your help remembering their yoga homework or an unforeseen biz bill.
Freezing, on the other hand, is the preparation to become active when a perceived danger is present. It may seem like nothing is going on the outside but inside there are a lot of chemical reactions occurring in the mind and body. No wonder you can't seem to relax when you're on vacation. Have you ever gotten back from vacation and thought, "I need a vacation from my vacation?!". Yeah… me too, me too! This is because you are constantly reacting to what's going on in your business. It's easy to get "stuck" in this mode, especially because our world has trained us that, in order to be a successful entrepreneur, we must always be in "go-mode". The beautiful thing is that YOU, my friend, are a WELLNESS entrepreneur and you know that this is a false belief! Woot! So let's talk about some business strategy now.
Reactive vs. Proactive
Have you heard of the term reactive yet? It means you take action to respond to an event AFTER it occurs. Being reactive can get a bad rap, but it's not always a terrible thing. It's good to be reactive when something unexpected happens in your business such as an unplanned bill arriving or your private yoga student sharing they had a recent knee injury. Being reactive means you can think on the spot to do some problem solving like finding funds to cover the bill or tossing out some yoga poses that aren't conducive to a hurt knee.
Being proactive is something we hear about, but we all need a little more guidance around to feel more productive and efficient. Being proactive encompasses taking some time to think about how to react if an expected outcome was to occur. For instance, expecting to have an unplanned bill come up so you create an emergency fund or always have a gentle yoga sequence in your back pocket that doesn't include pressure on a student's knees as you find knee injuries are common.
Your ego gets wrapped up with being in reactive mode when the little voice in your head says things like, "I can't take any time off… how would my biz survive?" or "Thank goodness I work remotely. I can work anytime anywhere." While that last statement may sound nice in theory, it can push a boundary of work/life integration if we aren't careful. After all, don't we all want a little time off now and again? So let's get proactive when planning for vacay or staycay time!
My Story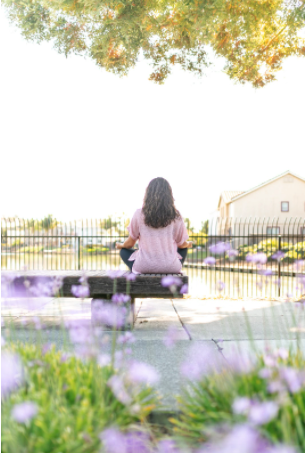 When I first started my entrepreneurial adventure as an online yoga teacher and technical recruiter, I was working ALL the time. I would try to take time off, only to work while I was away and come back to tons of work and scheduled sessions. In September 2019, I took a vacation to the Eastern Sierra Mountains only to drain my hotspot to interview candidates, have conference calls with my client and input a lot of data into spreadsheets. I even found myself in reactive mode when a candidate didn't accept a job offer and I had to schedule several unplanned calls to coach her through her decision. The Sierras were so breathtaking, but I wonder what it would have been like if I really embraced the present moment by exiting fight or flight mode to truly relax. When I returned home, I really felt like I needed a vacation from my vacation! The worst part was that, when I did step away to do things like rock climbing or enjoy a hike in the redwoods, that all that work piled up on me in my inbox. I felt unsettled and like everything was urgent upon my return home not to mention my week was booked with more calls and interviews. I felt that if I didn't respond right away and clear my inbox quickly, that would somehow bring down my value as an individual. Of course, that was only my ego getting in the way!
Since then I have pivoted to being not only an online private yoga teacher, but also a productivity coach for wellness entrepreneurs. I knew I had to think differently about my future time off to set a better example not only for others but for myself. I finally had my chance when I planned a beautiful vacation to Taos, New Mexico for October 2020. I had just recently rebranded myself, but I was called to take a break and I knew I needed to honor myself. I also knew that I didn't want to rush directly back into work and jolt my nervous system upon my arrival. So I came up with a plan… a PROACTIVE plan of action to reduce my anxiety aka fight/flight/freeze response so that I could enjoy my time and actually relax!
I'm happy to say that my hard work and planning paid off! I took 3 weeks off of work although my vacation was only for 2 weeks, enjoyed a hike in the snow, took a 1.5 hour hot tub dip, sipped lots of hot tea while looking out the window and made yummy home cooked meals with my friends. I took an online yoga class just for me and I gave myself permission to be in the present moment. My Taos trip was vastly different then my East Sierra trip simply because of my state of mind. And the icing on the cake my friend is that, upon my return home, I had plenty of time to take a deep breath, network and plan my marketing strategy for the upcoming weeks. Ready to hear how I did it?!
The How
I'm so excited to introduce you to my proactive strategy for taking time off! While I wish there could be a way to eliminate all vacay or staycay stress, life wouldn't be life as we know without it. However, it is my greatest hope that my 3-step process will significantly reduce your fight or flight mode while helping you to feel calm, confident and empowered!
Are you excited to hear about what I did?! Some of this may feel like common sense if you have worked or are working in the corporate world, but for some reason, when we move our career into an entrepreneurship, this kind of strategic thinking and planning gets lost in translation. Here are the 3 steps briefly defined by key terms:
PLAN – Designating a chunk of time dedicated to a specific task or tasks is called time blocking. If you'd like to learn more about how to time block, click HERE to download my free guide! This time management technique keeps you focused and productive.
BATCH – Creating a whole bunch of something at one time is called batching. Not as fun as baking a batch of chocolate chip cookies, but just as rewarding! Doing the work upfront of a similar task saves you time later.
AUTOMATE – Using software to execute a scheduled and/or repetitive task is called automating. This process saves you tons of time in the long run.
Let's Dive Into Details!
Now that you've been introduced to my 3 step plan for a stress-free vacation, let's dial in!
PLAN
Here's a big trick… if you are taking one week off, plan like you are going to be away for TWO weeks! I know, crazy right? But here's how this helps: When you clear off your schedule and prepare all of your content for a week more than the time you are away, when you return from your vacation, you have a WHOLE week to plan for the upcoming week(s). This means plenty of time to check your big inbox and maybe even some time to think creatively! How does that sound, my fellow Light Worker?!
To begin, SCHEDULE time blocks for batching and automating tasks as well as catch up time for your return. I recommend creating and scheduling at least 3 time blocks over the course of 1-2 weeks before you leave for vacation and scheduling 3 time blocks over the course of 1 week upon your return from vacation. These time blocks should be at least 2 hours each (if not more) to allow for breaks. Please know that, although your week will be incredibly full during the 1-2 weeks before you leave on vacation, you will feel incredibly productive and empowered when you leave your desk so stay the course!
Next, plan what you will do in each time block to EXECUTE the tasks that you'd like to batch and automate before you take your time off. For instance, one time block could be for creating social media posts, another time block for creating newsletters, another time block for automated emails to current clients or membership, etc. Don't forget to plan the time blocks for when you will return. These time blocks could be designated to solely catch up on email, plan your upcoming marketing strategy and/or maybe indulge in some creative time.
BATCH
Now that you know how much time you are planning for and how your time would be best used, it's time to batch! Make a list of all of your RECURRING tasks and prep for your designated number of weeks of time off per your plan. It will feel like a lot of time spent up front, but trust me, it is so worth it (and YOU are worth it). Here are the most common recurring tasks I see from my wellness clients:
Weekly Newsletter
Social Media Posts
Social Media Stories
Paying Business Bills
Podcast Releases
Recorded Classes or Workshops
Client Reminders
Blog Posts
Email Responding
Scheduling and/or Registration
When you sit down for your designated time block, you will work on creating several of just one task. This reduces any cognitive taxing on your brain so that you can remain focused, be super efficient with completing your batch and you'll save yourself a lot of time! I think that's why they call it a "no-brainer"!
AUTOMATE
Now take all of the content you created to cover the time you are off (including the week you return) and then… upload it to SOFTWARE that will share or conduct the task automatically for you! For example, this means your weekly newsletter will be released using software on a certain date or a class will be posted by a certain date. You can also automate your social media posts saving you tons of time! Don't forget to set up an away message for your email inbox!
Did you know Offering Tree offers you TONS of ways to automate? They've got you covered by helping you EASILY automate your newsletter, blog, scheduling, online store and more! Watch their neat tutorial videos to learn how!
BONUS: Talk about your time off to teach others self-care AND set boundaries!
Here's a neat (and free!) content Idea: Talk about how you are stepping away for vacation and self-care and encourage your following to do the same! Talk about boundaries and watch the magic happen as people support you being away and admire you for setting an example for them! Remember to also create content to spread the word about any upcoming events, workshops or special offers with the registration link so people can sign up while you are away! Your students and following will show up and support you and you'll find that your engagement will go up while you're away!
You've got This!
I hope you are not only excited to take your vacation but also to feel calm, clear and confident in how you can make your business run flawlessly for you in the background while you're away. And if you'd like some additional help with planning or an outside perspective to make sure you don't miss anything, I'd be honored to support you! Schedule a Clair-ity Call HERE.
Happy Vacation or Staycation, my Light Worker friend!
About our guest article writer:

​​Reneé Clair is a recruiter and productivity coach for wellness entrepreneurs as well as a yoga + meditation teacher. She helps wellness entrepreneurs lighten their workload so they have more time and energy to enlighten others! Her clients gain deep values of boundary-setting and self-compassion through her fun approach to otherwise dull productivity tasks. Reneé ​s​pecialize​s in process, project and change management​ which often include helping wellnesspreneurs with recruiting, training, automation and time management.​ Reneé holds a MA in Industrial and Organizational Psychology as well as a 200 Hour Yoga Teacher Certification.
On a personal note, ​​Reneé lives in San Antonio, TX and works from home to spend lots of quality time with her 15yo Chihuahua mix named "Nilla" (like vanilla), travels often to her fave state of CA, loves to sing karaoke and is a big fan of chocolate and tea.
---
⠀⠀⠀⠀⠀⠀⠀⠀⠀