By Amanda McKinney & Meg Casebolt
Do you want to have more yoga students? 
Then it's time to play nice with Google so you can invite more people to your awesome yoga party! (AKA: your yoga class!) 
But showing up on the first page of a Google search isn't something we all naturally know how to do. 
Lucky for you, I've teamed up with Meg Casebolt from Love At First Search. Meg is an SEO (search engine optimization) expert and yoga teacher. Like you can break down a pose into manageable chunks for your students, she does this for learning about Google.
Don't be afraid to share your expertise … yes, even more free!
When you're trying to promote your yoga business, it can be scary to share a helpful tip or popular sequence in your marketing. After all, if people can get that information online for free, why would they come to your class or book a private session?
But by being generous with your knowledge, you can teach people the basics of what they need to know so that when they're ready for the next step, they can take it with you. 
Free content is an amazing way to let people meet you, get to know you, understand who you are and it shortens the sales cycle a lot.
Getting Found for WHERE You Are Teaching Yoga 
If you teach in-person classes at a studio or offer private lessons, making sure that your website is optimized for local traffic or being found when someone searches "yoga near me" is critical. You can't show up on Google Maps if you never tell Google where you teach! 
(And if you don't have your own space, you can still be found for any studios where you teach or the service area where you deliver lessons.)
Also: Make sure that your website looks good on a cell phone, because 60% of all mobile searches are local. And 2/3rds of local searches that happened on mobile devices result in somebody calling or going to a location.
For this you want to include your location on your website in many different ways: 
If you have a physical location, include a map with your address on your website 
Mention your city and state in the footer of your website (all pages) 
Mention your location in blog posts 
Getting Found for WHAT You Offer As A Yoga Teacher
This is your niche! Once you know your niche as a yoga teacher, this is what you want your website to be optimized for as well. You can still include local information but also topic-specific content too. 
If you want to focus on private clients, make sure you have "Private Yoga Sessions" page on your website 
Write blog posts related to your niche and link to the place on your site where the person can book that particular offering 
On your about page, include why this specific topic is important to you 
On your home page, make it clear what your yoga is all about. Don't' make them guess
6 Steps to Get Found on Google As A Yoga Teacher:
Step 1: Have a website 
Everyone needs a website because Google prefers this. 
You also want to make sure your website is mobile-friendly. Google actually looks at the mobile version before it looks at the desktop version of your website when indexing your work. 
You can easily build a yoga website with Offering Tree! 
Step 2: Create a Google My Business Account 
Even if you're working virtually and not concerned with local students, you still want a Google My Business Account. You can set this up quickly at business.google.com. You will have to enter a business address so they can send you a postcard to verify that you're a real person with a business but your address will not be public if you choose to keep it private by clicking "I provide services". This is where you want to start collecting reviews for your yoga business as well. 
Step 3: Identify what people are searching for
By knowing what your dream student is searching for online, you can then include those words on your website so that it will show up for them in a Google search. 
Keyword research doesn't have to be hard! It's just figuring out what people are already searching for and then finding ways to include words on your website that reflect that." 
Keyword Research Tools: 
Step 4: Come up with a plan and start producing 
Whether you're writing blogs or creating YouTube videos, make a plan and then start creating your content. You will learn more about what your audience is responding to once you start creating content. Just get started. 
Find a way to produce content and then take that knowledge that you have about what your audience has been looking for, what keywords they're searching for and infuse it into your content." 
Often the hardest part of creating content is showing up and being willing to be vulnerable and to put yourself out there … but just like yoga, it gets easier with every class you go to, content gets easier with everything you publish.
Step 5: Lather, Rinse, Repeat Process 
Unfortunately, one blog post won't bring endless traffic to your website, just like one Facebook post won't fill your classes. And the benefit is that your blog can continue to bring new traffic to your website all the time … it doesn't expire like social content.
You have to find a consistent process that you can repeat for your audience. Maybe it's once a month, or every other week or even weekly. Decide on your process and take action. 
Not sure what to write? You might be writing a blog post or creating a video on a topic that's already been done. Cool. Put your own spin on it. Say it in your own words. Let your audience find you for it.
Step 6: Look at what you're being found for 
Once you start creating content, you can then use Google Search Console to see what you're being found for and that's where analytics come in. This is how you can improve on the content that you've already created and also create more content based on what your dream students are searching for online. 
Look at how you're ranking and make adjustments to the content that you've already done to improve the search volume.
But also: Don't let yourself get overwhelmed with the optimization stuff too soon.! If you've never blogged before, the important thing is to just START. Figuring out how to improve your work can come later.
Your Next Step 
Start creating content if you haven't already. If you've posted a blog post once, decide on your frequency and stick to the plan. And if you've been creating content on a consistent basis then it's time to dig into the details and let your content work for you. 
"Get specific about who you want to work with and how you want to work with them, they can find you. But if you just say 'I'm a yoga teacher', you're going to get lost in the midst of all other yoga teachers.
Until next time, give yourself permission to create content now and grace along the way. Talk to you soon! 
About Amanda McKinney:  
Amanda McKinney is a Marketing Coach whose passion is helping yoga teachers find the tools and the confidence within themselves to build a thriving yoga business. She does this through her podcast: Marketing Yoga with Confidence, online courses and membership.
Amanda Links: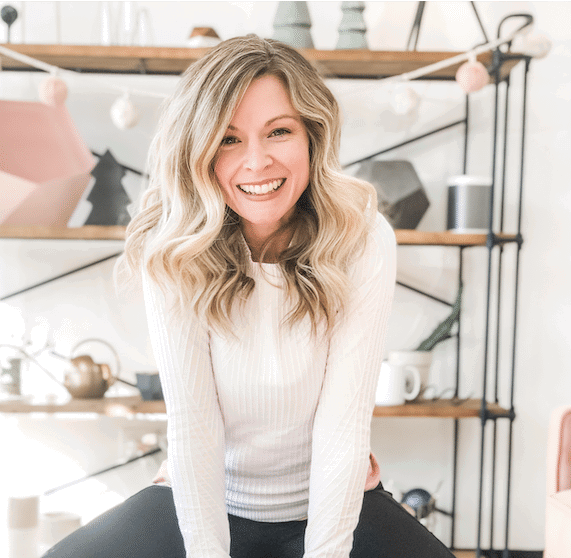 About Meg Casebolt: 
Meg Casebolt is founder of Love at First Search, an agency that's where were singularly devoted to helping women-owned businesses get found in search results.She helps female entrepreneurs succeed online by helping them get found on Google then turning readers into customers, all by using custom strategies that fit them better than Catwoman's suit (without the wedgie). 
Meg's Links: