Are you hooked on pilates and wanting to share the love with others? If you're wondering how to become a pilates instructor, you've come to the right place!
If your love for pilates has left you considering becoming a pilates instructor, you likely have a few questions. How much does it cost to become a pilates instructor? Do I need to be certified to teach pilates? Where do I start? We'll cover these questions and more in our step-by-step guide on how to become a pilates instructor.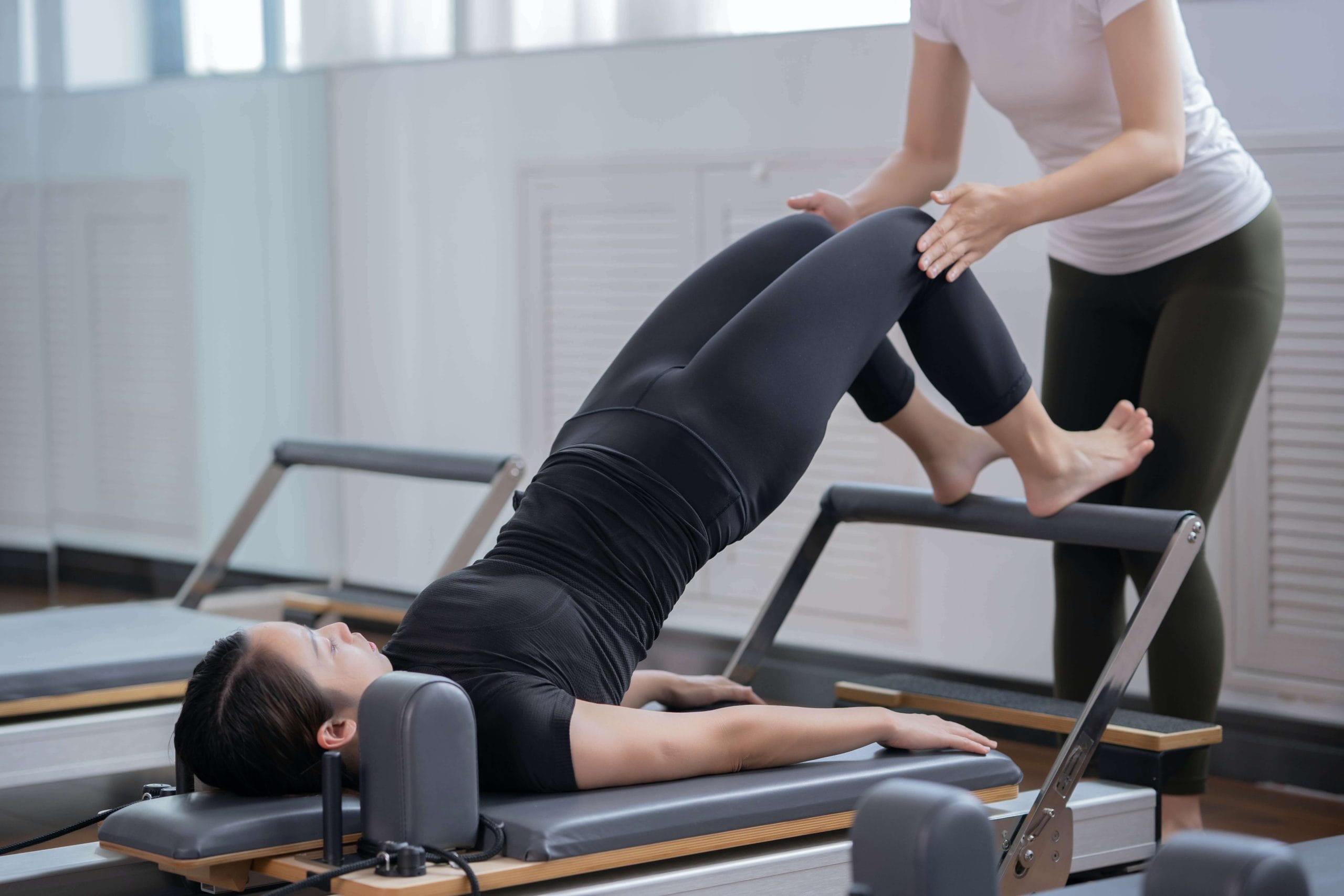 Lack of a website holding you back from starting a pilates studio of your own? Start your pilates business today with OfferingTree's easy website builder and business growth tools.
7 Steps to Become a Pilates Instructor
Pilates instructors guide clients through their pilates practice and can specialize in a number of different styles and formats. Pilates has been around since the 1920s when Joseph Pilates first developed a series of movements intended to strengthen and rehabilitate the body. Since the early days, a number of contemporary pilates methods have emerged, and pilates has grown significantly in popularity.
As a pilates instructor, you have flexibility as to which methods you teach and where. You can teach in a dedicated pilates studio, community center, or even online! It has the potential to be a full-time job or a side gig. With all of this flexibility, it's no wonder you are thinking about becoming a pilates instructor. We'll break down the process of how to become a pilates teacher into seven steps so you can feel confident and prepared for your journey.
Thinking about teaching pilates online? Check out our top six tips for running an online fitness business. 
Start with a Passion for Pilates
If you're wondering how to become a certified pilates instructor, you've likely got this first step down. A passion for pilates is critical for teaching pilates and retaining clients. Whether you've just recently discovered pilates or have been attending classes for years, it's almost certainly had a positive impact on your life. It's not surprising that you might want to become a pilates teacher to share your passion with others.
You don't need to have years of experience and training in order to become a pilates trainer. No matter your age, body type, or stage in life, a passion for pilates will carry you far on this journey. You don't even need a background in the fitness industry – many pilates instructors simply turned a hobby and passion into a side gig they truly enjoy.
A passion for pilates is a must
You can be successful at any age
No need to have a physical fitness background
Immerse Yourself in Pilates
This may sound like a given, but another primary step in how to be a pilates instructor is to take lots of pilates classes and immerse yourself as much as possible. Practice pilates consistently and at more than one studio. Take this opportunity to really learn the exercises, formats, and techniques of pilates. You'll likely notice a difference in teaching styles from one studio to the next. Maybe take a private lesson or two. Listen and learn from your own body, and take some time to reflect and journal about what you like and don't like for when you practice teaching pilates.
Depending on where you live, you might only have access to some pilates styles, so a little bit of research will go a long way. You'll want to have a basic understanding of the types of pilates: mat, reformer, cadillac, chair, and barrels, and also basic musculoskeletal anatomy. Read about the history of pilates and how it has evolved over time. You can take advantage of endless resources online for your research.
Take pilates classes from a variety of instructors and studios
Try taking a private lesson
Do your research!
Think About Where You'd Like to Teach Pilates
Before you start thinking about how to teach pilates, you'll want an understanding of the style of pilates you'd like to teach as well as where you'd like to teach it. Learn as much as you can from your instructors. Observe how they teach and talk to them about their journey to becoming a pilates instructor. Is there a particular specialty you want to focus on? Do you want to teach at a dedicated pilates studio or boutique fitness studio?
Maybe you are more drawn to a larger gym just starting to expand its pilates program. You could also teach somewhere like a community center or senior center. Expand your network in the fitness industry and consider working at a pilates studio while you are training to get more clarity.
Talk to your instructors about their journey to where they are now
Decide which style of pilates you enjoy most
Start thinking about where you'd like to teach
Begin a Pilates Training Program
Part of the process for how to get pilates certified is to have a robust training program to prepare you for the certification exam. Now that you've done your research, immersed yourself in pilates, and talked with your instructors, you should have a better idea about the training programs available to you. Most programs today are contemporary pilates, a more modern approach to classical pilates developed by Joseph Pilates.
We'll discuss in more detail some of the most common pilates training programs and certifications, but you should seek out programs that involve a mix of class instruction, training, and student teaching. The more equipment you want to become certified on, the longer the training program will take. The training for mat pilates, for example, is much shorter than the training for a comprehensive pilates certification. Expect anywhere from six months to two years for training, depending on your program, and make sure it includes the following.
Class instruction (either in-person or virtual)
Studio training and practice
Teaching and observation hours
Take Your Pilates Certification Exam
Do you have to be certified to teach pilates? Technically you do not, but pilates instructor requirements for most studios include certification. The first step in how to get a pilates certification is completing your training program. Your pilates teacher training program will prepare you to take the certification exam if you choose to do so. Passing the exam will give you more credibility as an instructor and help you stand out to potential employers.
The PMA (Pilates Method Alliance) is a nonprofit professional association for pilates instructors and offers a certification program called the National Pilates Certification Program. This pilates certification costs $295, and if you pass the exam, you become an accredited Nationally Certified Pilates Teacher and are included in their directory. There are plenty of other certifications out there, but all will involve a minimum number of training hours and teaching hours. Use your friends and family as much as possible for practice, as the final exam will include both a written and practical portion.
Decide which certification exam you'd like to take
Make sure you meet the required number of hours
Practice as much as possible
Obtain Liability Insurance 
Have you noticed liability insurance as part of any pilates instructor job descriptions? Do you actually need insurance to teach? Obtaining professional liability insurance is sometimes overlooked, but you'll need it whether you plan to work for yourself or for a fitness studio. At the very minimum, you will want to be sure your policy includes professional liability coverage. Professional liability covers you in the event of injury or personal property damage.
If you plan to open a studio of your own, you'll also want general liability insurance to cover any accidents that occur on the premises outside of the pilates class itself. The last type of insurance is one you'd only need to consider if you are selling products such as pilates equipment or snacks, and that is product liability insurance.
The good news is that liability insurance doesn't need to break the bank. For professional liability insurance, expect to pay a couple hundred dollars per year in total. Do your research ahead of time to ensure you are getting the plan and coverage that is best for your situation.
Professional liability
General liability if you own your own studio
Product liability if you plan to sell any products
Watch a Demo of OfferingTree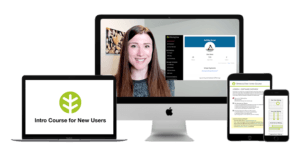 Curious about how OfferingTree's all-in-one platform can save you time and money? Watch a demo and get Ashley Hagen's free intro course!
Never Stop Learning and Evolving!
Your pilates training doesn't end when your training program ends and you pass the exam. Rather, you are just in the beginning stages of your pilates education and journey! You will train as a pilates instructor with every class you teach. It's an ongoing journey and opportunity for you to learn, expand, and evolve your pilates practice. Some certifications, like the National Pilates Certification Program, require you to maintain your certification by completing continuing education hours.
Being open to continual learning will make you a better and more well-rounded pilates instructor. Continue to take pilates classes to maintain your own practice and learn about other pilates styles. This will also help you expand your pilates network so when you have a question like "Which microphone is the best for pilates class?", you have a built-in network to turn to.
Continue to take pilates classes yourself
Learn from your teachers and your clients
Grow your professional network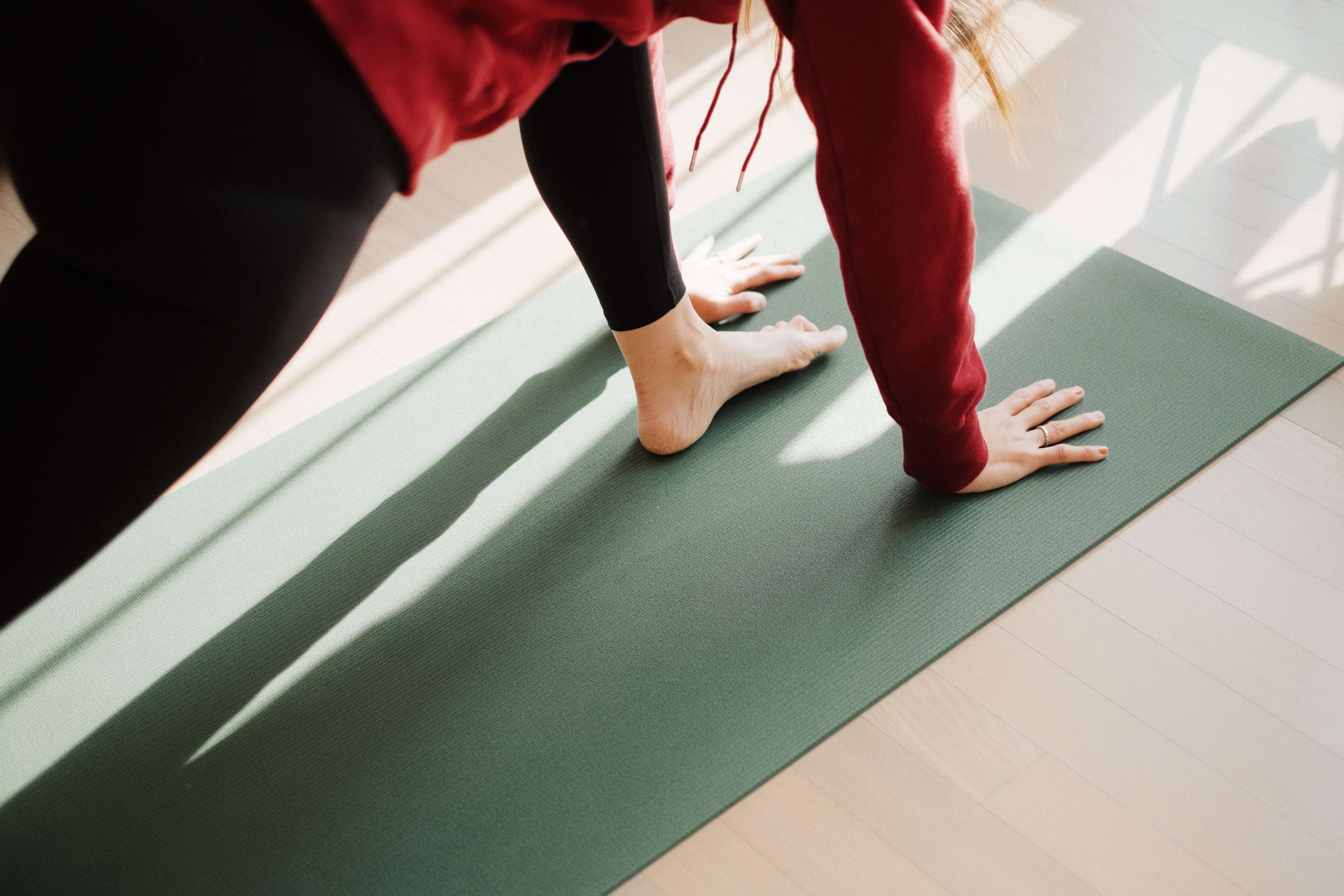 Are you considering offering pilates classes online? See what people are really looking for in online fitness classes. 
Pilates Instructor Certifications 
Just like you have choices in style and class format, you have choices when it comes to how to get certified in pilates. Becoming a certified pilates instructor, although not required by all studios, will open many doors and will set you apart as a teacher. How long does it take to become a pilates instructor? Each program is different in length, method, and pilates license requirements, so let's take a peek at four of the top pilates certifications.
Stott Pilates
Likely the most popular pilates certification is Stott Pilates, and for good reason. It's an extensive contemporary training with a good reputation largely due to the lengthy experience of all their pilates instructors. You can really tailor your experience with a variety of certification programs to meet your preferences and needs.
The full-time Comprehensive Program from Stott includes modules on mat and reformer, cadillac, chairs, and barrels. In total, the program lasts 20-23 weeks with apprenticeships following each of the two modules. To be eligible for the Comprehensive Stott program, you'll need to have completed 30 hours of pilates classes, and you can expect to pay just over $4,000 for the program.
Contemporary Pilates
Extremely reputable
Methodical approach
High-quality teaching
Power Pilates
Power Pilates is a training program based in classical pilates and covers beginner, intermediate, and advanced levels. You will become fluent in mat, reformer, cadillac, chairs, barrels, magic circle, and more in a series of three sections. The three modules allow for some flexibility in timing and payment, great for those who are working full-time while training.
Power pilates does have a list of prerequisites, including 25 classic apparatus sessions, a basic anatomy workshop, completion of two other Power Pilates courses, and reading Joseph Pilates' book. Their tuition cost of just under $5,000 includes all materials, training, and exams. Due to the flexible scheduling, the length of the program can be anywhere between six months and a year for the 600 required hours.
Classical Pilates
Well-rounded Program
Training on Multiple Apparatuses
Flexible Scheduling
Balanced Body Pilates
The Balanced Body Pilates program is a combination of classical and contemporary pilates methods and will give you a great understanding of the human body for you to take into your teaching. Balanced Body offers four modules and certifications: mat, reformer, mat and reformer, and comprehensive.
Their comprehensive instructor training program is 520 hours plus an anatomy portion. Each module has a prerequisite for studio sessions; the prerequisite for the comprehensive program is 20 pilates studio sessions. All of their modules recommend some work experience in the field, and prices will vary depending on which you choose. The exam will include a practical portion to evaluate your teaching and communication skills as well as a written portion with multiple choice and essay questions.
Mix of Classical and Contemporary Pilates
Emphasis on Human Anatomy
Written and Practical Exam
AMA Accredited
Peak Pilates
Peak Pilates is a classical pilates training program that places a heavy focus on the movement system developed by Joseph Pilates. After completion, you'll have a solid foundation of pilates principles and equipment. The Peak Pilates program is broken up into three modules, all of which need to be completed to obtain full certification.
Peak Pilates built its program with busy schedules in mind. You can complete the training at your own pace. To qualify for level one of the Peak Pilates program, you'll need a basic understanding of human anatomy, 20 hours of pilates training, and valid CPR and First Aid certifications. The full certification will cost just over $5,000, including materials, and requires 500 hours.
Classical Pilates
Focus on Joseph Pilates' movement system
Thorough courses
Complete at your own pace
Top Certification Picks
Best for Beginners: Power Pilates
Most Popular: Stott Pilates
Benefits of Becoming a Certified Pilates Instructor
Once you've chosen your Pilates certification program and enrolled, you're well on your way to becoming a certified pilates instructor. Not all studios require certification in order to teach pilates, but most prefer it. Getting your certification will certainly give you credibility in the pilates industry, especially if you plan to open a studio of your own at some point.
All of the certification programs we've talked about so far are credible and generally accepted no matter where you teach. One method for determining which program to take is to get feedback from your favorite studio or instructor. Some studios prefer a certain program and may even offer reimbursement for your training program and exam. Once you become certified, you can always take additional courses or workshops to expand your knowledge in a certain area. You can really tailor your training to what you want to teach.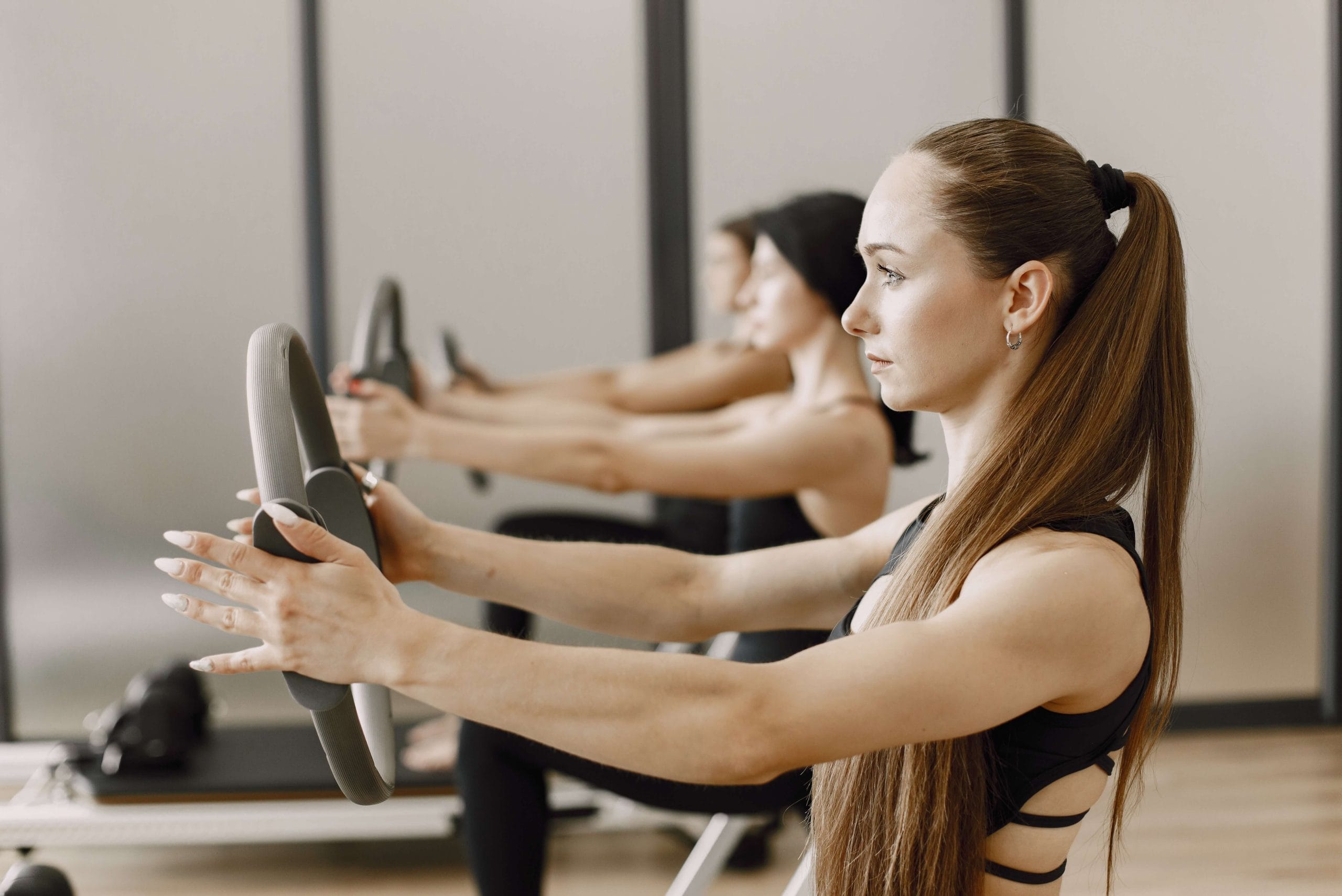 Things to Consider Before Becoming a Pilates Instructor
Before even asking, "How do you become a pilates instructor?", you'll want to consider whether it is right for you. Becoming a pilates instructor involves lots of practice, training, and a commitment to constantly improving. Aside from a love for teaching others, consider the below when deciding if becoming a pilates instructor is right for you.
Passion for pilates: Do you have a true passion for pilates and for sharing it with others? This will be essential for your success as a pilates instructor.
Level of self-motivation: Much of the process involves going out on your own to complete the training modules, practice, and exams. Do you have the energy and motivation to make it happen?
Cost of training program: Most comprehensive programs will cost a minimum of $3,000, so you'll want to make sure you can fit it into your budget. Think of it as an investment in your future; it will all pay off.
Time in your schedule: Comprehensive training programs will include a minimum of 400 required hours, and some are more flexible than others.
Get Your First Client With Your Own Pilates Website With OfferingTree's All-in-One Management Platform
It takes hard work and dedication to become a pilates instructor, but running your business doesn't have to. Let OfferingTree take the work out of managing your pilates studio business so you can focus your attention on your clients. Our all-in-one platform is easy to use and offers all the features you need without the hefty price tag.
We're built by wellness folks for wellness folks. With our platform, you'll get website creation with custom branding, class booking, text reminders, email marketing, and more at an affordable cost with no hidden fees. See how OfferingTree stacks up to the competition and start your free 14-day free trial today!