In 2020, the search term 'how to teach online' hit an all-time high as the world, and millions of fitness, yoga and wellness businesses, rapidly moved online. A lot of psychology plays into creating a good online experience that we haven't had the chance, as movement teachers, to adjust to. And so who better than a filmmaker to share some tips on how to go from 'good enough' to 'awesome' in how we create our online classes.
Kristi Adams is a photographer, filmmaker and experienced online yoga teacher and as well as leading her own successful classes, Kristi consults with other yoga teachers and studios in their online set-up. So, it's fair to say that creating a great online experience is Kristi's area of expertise.
Kristi also happens to be a valued member of the OfferingTree community so we have been able to see firsthand how successful her approach to her online teaching is. And just as we suspected, Kristi has tons of great insights on everything from what to spend your money on and how to light your space, to what to wear on screen and why.
Team Up for Online Perfection
First up, Kristi strongly recommends teaming up with a colleague to test out your online equipment with each other. Connect with someone who will give both honest and relevant feedback and understands what experience you are trying to create. It's important to have them experience your online offering in the same way that your clients will, so if you stream via Zoom, or go live via YouTube, that is how they should test your classes out.
This is why it's important – on a film set, there are large teams working together on each element of the shot, feeding back their expertise and improving it. Because having different sets of eyes and ears on what you are creating really helps to set it up for success. Maybe you record yourself and watch it back, but of course you are not objective, and you won't give yourself as much constructive feedback!
Perfect Your Online Audio with a Good Microphone
Kristi's advice on audio is that if there is only one thing you can invest your money in, make it a good microphone. Especially if you are teaching online movement. Because your clients will not always have their eyes trained on your video, but they WILL always be listening, so investing well in your sound is a wise move.
And try to be aware of the subtle nuances of your sound. Cheap bluetooth mics can sometimes sound tinny, or some have an echo. These almost imperceptible sound effects contribute to the client experience – for example, if your client is wearing earbuds, your sound is feeding directly into their ears. So it makes sense that you want to aim for the best quality, to improve their listening experience.
Kristi's recommends the Rode Wireless Go as a great all-around mic. Its wireless connection enables clear sound and a stable connection. To avoid rubbing against fabric, find a spot on your body to tuck it into – inside the bra is a good tip! – where your voice can be heard in any position.
This mic is a bit of an investment financially but is versatile, good quality and worth paying for.
Make Musical Instruments Sound Good Online
Using instruments in your classes, especially over video conferencing software such as Zoom, is tricky. When we think about the purpose of software such as Zoom – to facilitate voices and faces in meetings – it's understandable that it might struggle with the audio of musical instruments.
Having worked with clients that use singing bowls, Kristi recommends a couple of things. The first is to use a digital audio recorder with a built-in microphone for these sounds. Its capability for sound is much better and it can create a really nice experience for the listener.
The second recommendation from Kristi is that because of the limitations of video conferencing software such as Zoom, a singing bowl session can sound distorted. If at all possible, consider pre-recording the sessions using a video camera. This format really preserves the sound and carries it across to the listener well.
Which leads right back to Kristi's recommendation that you team up with a colleague so they can listen to it and give you good feedback. No-one wants to hurt the listeners ears with improper sound settings!
Kristi's Tips for Great Online Lighting
Kristi has so much information to share on lighting, that we had to create another article! Read all about the ways in which you can improve your lighting without making a huge investment in a professional soft lighting system.
Camera and Video Conferencing Tips
Now onto your camera set up and the nuances to be aware of:
The camera angle should be as neutral as possible – place it too high, and your audience is looking down on you, both literally and figuratively. Place it too low and you are looking down on them, possibly making them feel less-than. These subtle connotations do make a difference in the viewing experience.
Video conferencing quality can be unreliable for any number of reasons – your internet connection (always try to connect via ethernet), other devices in your home using the internet at that time, how many people are on the video call and even your lighting can all affect the image, and sound, quality of your video.
Conferencing platforms are great at what they are designed to do, and that is to people sitting close to the screen and stationary, not demonstrating movement and talking from a distance. To work around this, Kristi's solution is to use a video camera to film the class separately, as she teaches via Zoom. Kristi records the video to a USB while streaming on Zoom via a laptop. This way, the recording is high quality and easily reusable.
If you are uploading your content to your OfferingTree site, Kristi recommends using a free software called Handbrake to compress the file into a usable format. Then trim the ends of your video to neaten up your start and end, and upload the file to Vimeo or YouTube, before linking it to your OfferingTree website.
Some final tips:
Don't wear bright colours or complex patterns on screen as they make the camera work harder to pick up your movement.
Try to contrast against your background – dark clothes against a light background, and vice versa.
Drink tea before you teach to soften your voice.
Mute during Savasana, especially if you are fighting a cold, cough or have allergies. Mouth sounds are moving from your mic right into your audiences' ears, so be aware of every noise you make!
Work with your surroundings as best you can. Kristi uses drapes to close off her teaching space at home, moving furniture around and mounting her camera in the closet to get the best shot – and it looks awesome to the viewer! Check out this time-lapse video to watch her setting it up – she really is a space genius!
Kristi leaves us with a thought – "Fast, cheap or good – choose one."
You can't produce a low cost, easy option and expect incredible results. Be realistic about your budget, your time and what you are trying to achieve. If you are only teaching online live classes, invest in a mic. If you are recording to reuse the sessions, make the effort with a good quality camera set up. As well as working with a friend or colleague, try to take a number of other online classes so you can compare and contrast how other people are creating their space.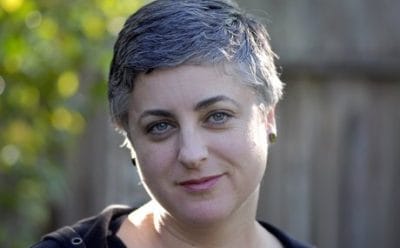 Kristi Adams is a photographer, filmmaker and Yoga teacher based in the San Francisco Bay Area. Kristi combines her work as a yoga teacher with her career in filmmaking to consult with yoga teachers and yoga studios to perfect their online offerings.
Learn more about Kristi by following her on social and checking out her website Be Curious. Here are links to Kristi on Instagram, Twitter or Facebook, and be sure to check out her photography and film website and Instagram. You can also join Kristi's Facebook group for knowledge-sharing for teaching online.