When it comes to website builders, how does an OfferingTree website compare to Squarespace? We get asked this a lot and if this is a question you need answering, then this blog post is for you. 
The truth is the two platforms are so similar and yet they differ in some very important ways. Which one is best for you depends on the type of business you have, and the purpose that your website needs to serve in it. 
We talked to OfferingTree users that have made the switch from Squarespace to hear about their experiences – some of our users have also integrated OfferingTree into their Squarespace site. We wanted to know how they found the switch, what the driving factors were behind choosing each website and how they handled moving to a whole new website.
Let's take a look at the key differences for wellness businesses. 
Who Are The Websites Best Suited For?
OfferingTree sites are specifically designed for businesses in the wellness industry. It is a 'website in a box' for wellness professionals because your site comes with everything you would need to launch a wellness business: scheduling, appointments, email marketing, blogging, a membership site, course building, payment processing and even Zoom integration. In ten minutes you can have your new OfferingTree website up and running – because our website is prebuilt, you don't have to build it from scratch. OfferingTeee is often considered as an alternative to Squarespace, but the truth is it is an all-in-one yoga software, rather than a website builder with optional add-ons..
What's more, we add in new features all the time that our wellness users are asking for. Because we work within this niche, we are able to actively focus on our users' needs to best serve them. So if an OfferingTree user has a request for a feature to be added, we start to work on it: first, we find out more about how the feature needs to work, then we put it on our roadmap and start to develop it. 
Squarespace sites are general-purpose, that is to say, they are suitable for any type of business. From advertising agencies to online stores, Squarespace can provide a beautiful website for an array of industries that is flexible in both design and capability. However because the websites are so broad-ranging, you do not get the wellness-specific features as part of your package. You can add extra features in to your Squarespace site, you just need to add them in from other providers, known as third-party integration. We'll take a closer look at those throughout this blog post. 
Website Design 
Building your website on Squarespace allows for a lot of creativity. You can choose from an array of templates to start with or design your own from scratch, and each step of the process has videos to guide you through. You can go back and change your website template at any time, without losing any information on the site. Squarespace guides you into designs that will work together, preventing you from creating a design that doesn't work well visually. 
Squarespace sites are great if aesthetics are important to your brand, however, the grid-style system of building your website can take a bit of getting used to and you might find you need expert help to perfect it.
OfferingTree also has a website template for you to work with and makes it easy to add images, your logo, use a wide variety of fonts and choose colours to design a site that suits your business. At any time you can adjust the layout of your site and edit it in a really easy way. We are also adding more features later in the summer of 2021.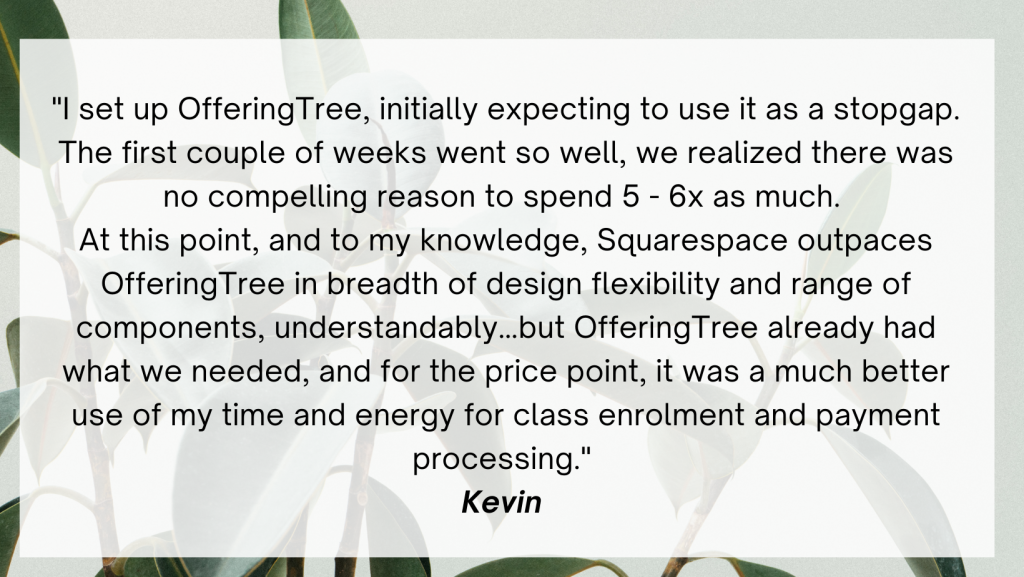 Features
The primary difference between the two sites is their range of in-built features, and how they work. Both systems have the capability to include integrations of other services into the website, so you can add any features that are not included already. However, with feature integration comes extra subscription costs and usually more tech know-how (or support) to set up. OfferingTree already has the key features built into the software to streamline the user experience.
As we moved through the pandemic with our wellness clients, we saw their needs and were able to drill down on how to help them quickly pivot to online work (such as adding in Zoom integration, and the option for donation payments) and we continue to listen closely to our clients. Coming soon, we are expanding the website to allow for multiple users and teachers, so that small studios can use OfferingTree for their websites as life starts to reopen post-pandemic.
Squarespace also has a lot of features and you can integrate almost any service into the website which makes its capability almost infinite. However, the extra features require site integration, which is where it can get tricky. Take, for example, email marketing integration; it's relatively easy to integrate an email service into your Squarespace site, however, you will need a separate subscription for the email service. This means that your admin burden increases immediately – setting up, paying for and managing extra systems and troubleshooting any issues in the integration. 
Here are the key features outlined: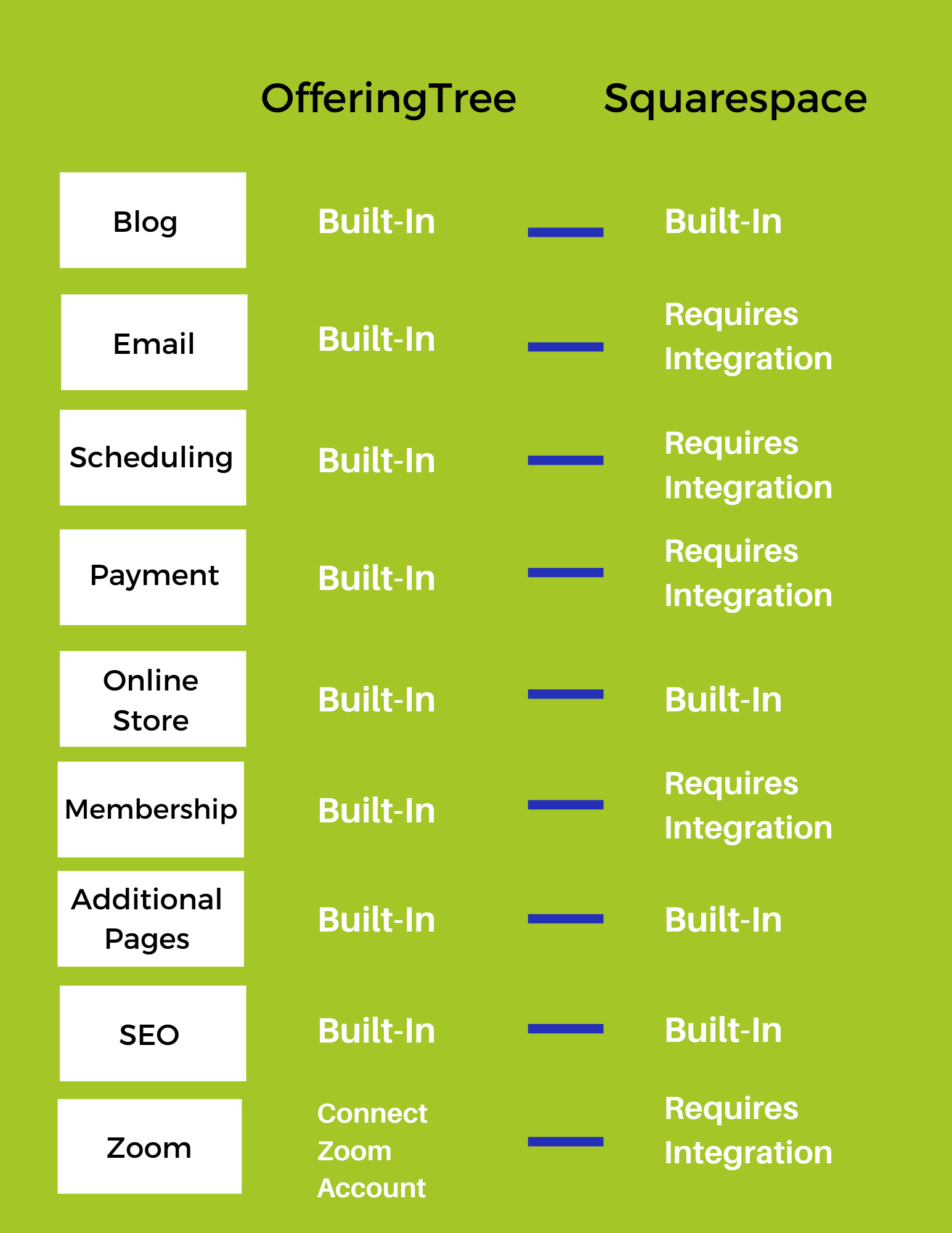 Here is what former Squarespace user Felicia has to say: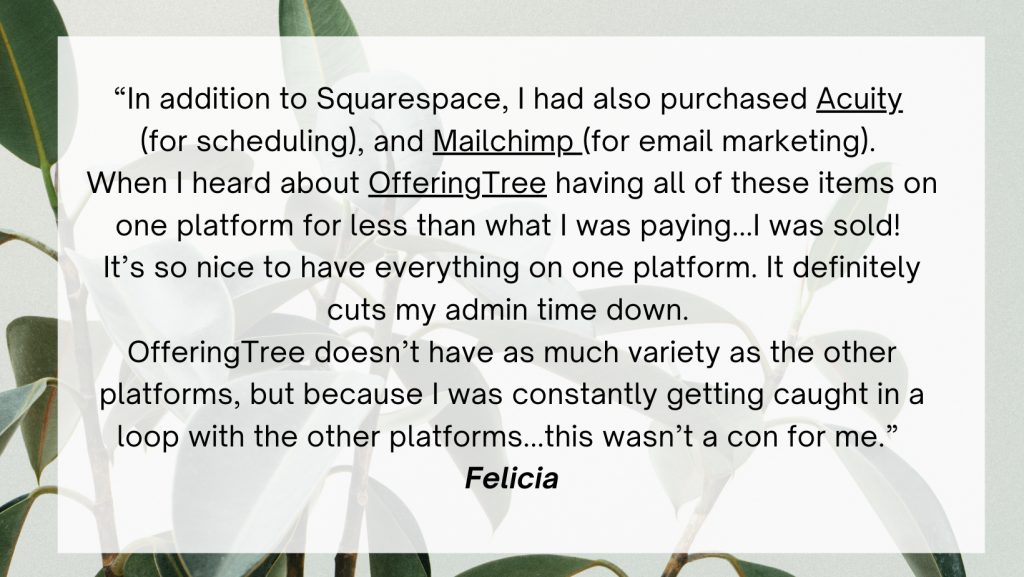 Support
The part of OfferingTree that is most highly rated by our users is the tech support. We're a small company with a strong tech team and our support is personal, tailored, and fast. And because all the features in your website are part of the OfferingTree services, we are the only support team you need to ask for help. 
We believe in taking care of our customer's needs, and often the person you will speak to is our co-founder Eddie so your requests go right to the top of the chain. We do have help articles and videos on our YouTube channel and our Facebook user group is also a hub of support, interaction, feature requests and questions. It's rewarding to see how our users support each other and share tips on marketing, blogging, Instagram and more.
We are also committed to helping our users grow their wellness businesses, and we've partnered with a number of professionals in the wellness space to bring regular, free webinars on everything from marketing to gender inclusion and running yoga challenges. 
We can't speak to the mission behind the Squarespace support team, but we are sure they work hard to serve their customers. However it is worth bearing in mind that because of the multiple integrations a wellness business will require in a Squarespace site, your tech support will need to come from the companies that run your integrations too, so the support is much less streamlined.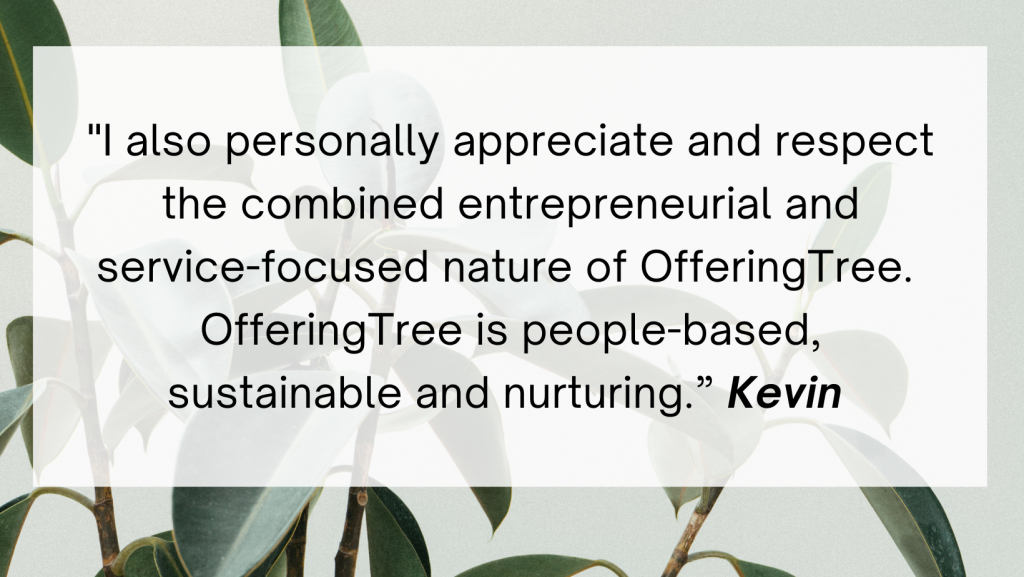 Pricing
Both OfferingTree and Squarespace have a free 14 day trial period to try on your new website for size. After that, you can choose a plan that works for you:
| | | |
| --- | --- | --- |
|   | OfferingTree | Squarespace |
| Tier 1 | Essentials – $29  | Personal – $12 |
| Tier 2 | ProPlan – $59 | Business – $18 |
| Tier 3 |   | Basic Commerce – $26 |
| Tier 4 |   | Advanced Commerce – $40 |
Price Comparison
OfferingTree Monthly Pricing:
The Essentials Plan has all the features and includes new updates to the system. The ProPlan is for wellness business owners that use their website full time and want to remove the fee structure, the small amount of branding on the site, and use text messaging for their client relationships. 
Squarespace Monthly Pricing: 
In the Squarespace pricing plan, the online store is included in the advanced commerce plan only, at $40 per month. Added to the monthly pricing would be the cost of the extra subscriptions (mail integration, scheduling software, membership platform, course-creator, etc)  for services that are already built into a standard OfferingTree site. 
And there is also a hidden cost – running extra integrations takes time and tech know-how, and your admin time in setting these systems up and maintaining them is also a cost to your business.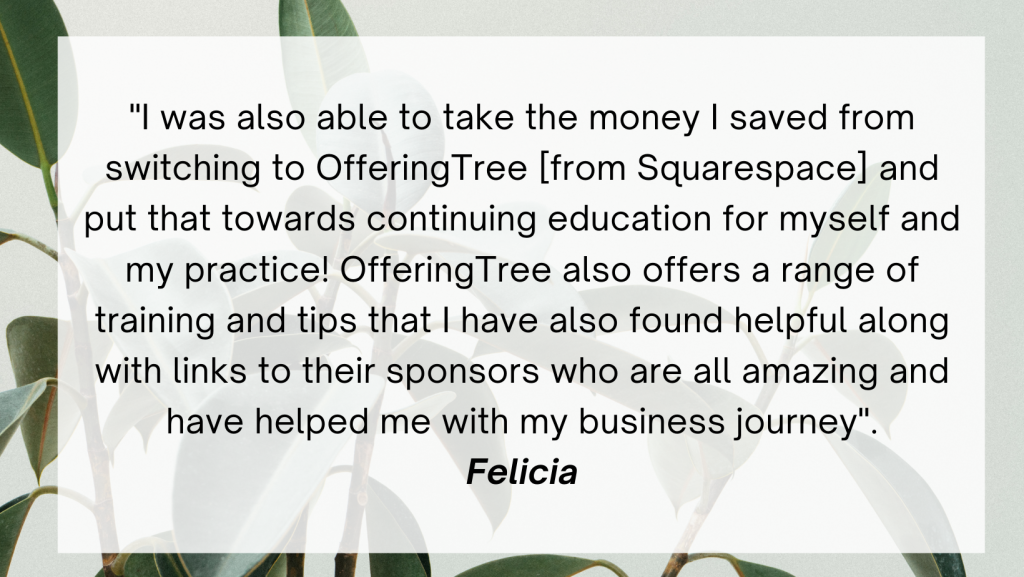 More to Know
Where OfferingTree, as a public benefit company, differs from other tech companies is that we continue to add features to our Essentials Package at no extra cost to our users. So, when our users give feedback on new features they need and we add them in, this is included as part of their current cost. 
OfferingTree is also a public benefit company in the USA. What this means is that we are not profit-focused like many other tech companies but instead are a for-profit entity that is socially minded and focused on serving our users. This allows us to be more mindful of the way we conduct our business and how we serve people.  We are here in this space through a genuine desire to serve the population that we are working with.
So – Which Website is Best?
Squarespace is a fantastic provision for any business, as long as you are comfortable with integrations and managing different systems together, and if you value aesthetics over simplicity in your day to day working.
And this is an important consideration – the template of OfferingTree websites is fixed, so creating something completely individual is more challenging, however, our websites are also beautiful and functional (check some out in our featured websites blog posts here and here).
Knowing which element is more important to your business is part of the choice here – cost and time saving with a slightly less creative aesthetic from OfferingTree, or cost and time heavy for something aesthetically perfect with Squarespace? 
If you haven't yet had the chance to talk to a member of our team or to look around a website, we would love to introduce you to the OfferingTree product. Schedule your demo via this link, or comment below with any questions. We would love to bring your wellness business into the Offeringtree community – we know you won't regret it.
Some final comments from Felicia: