Here at OfferingTree, we're hard at work making our platform even better and we recently launched a new feature called "Site Integrations". With Site Integrations, you can add custom styling to your OfferingTree site or integrate it with hundreds of third-party web services that embed their features into your site.
Below are a few examples to help spark some integration ideas. Let us know if you'd like to see more. Happy integrating!!
Embed an online store on your site
Shopify is the leader in providing a customizable online marketplace to see your goods. With the Shopify Lite plan, you can start selling your goods for as little as $9 per month. Take a look at Goddess Gathering's OfferingTree site for an example of an embedded store. 
If you would like to start selling goods on your OfferingTree site, take a look at our help page for instructions on how to set up this integration.
Add your Social Media feed to your site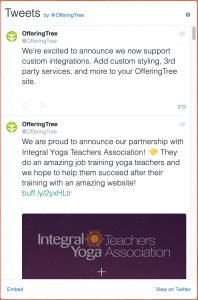 Twitter and Facebook allow you to create an embeddable view of your timeline that you can publish on your OfferingTree site. While Instagram does not directly allow embedding a feed, you can use a third-party service such as LightWidget to integrate your Instagram feed. Your website visitors can then view and engage with your feed directly on your site.
If you'd like to set up any of these integrations, take a look at our help pages for instructions:
Integrate a Google Form 
Have you ever run a workshop or retreat and needed to collect some feedback from your clients/students? A simple form can help with this. Google Docs allows you to create custom forms that you could then embed within your OfferingTree site using our new Site Integrations tool. Please take a look at this help article if you would like to set up this specific integration.
Customize your site styles
Last but not least, if you would like to tweak some of the default styles for your site and have some knowledge of CSS styling, you can add an integration that overrides your site's default styles. This feature is more advanced, so please don't be shy about reaching out if you need some help tweaking your site's CSS. You can reach us at support@offeringtree.com and we're happy to help.
At OfferingTree, we're super proud of this new Site Integrations tool because it opens up a world of possibilities for our users. We look forward to seeing all that you have to offer!